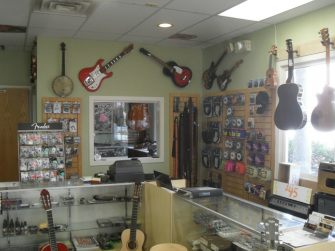 Welcome to Clinton Guitars !
Opened in 2011,we now begin our eighth year here providing repairs, set up, and customization for guitars, basses, and most other stringed instruments. We also offer for sale, new and used guitars, basses, banjos, ukuleles, oddball instruments, and all manner of accessories related to guitars. In addition we will buy or consign your unused or unwanted instruments or equipment. We can display your consignment items in our shop and list them on our site as well as through appropriate auction sites.
My name is Roger Steinberg and I perform your repairs right here in the shop. I started out working on and customizing my own guitars and those of my friends. Before opening the shop I completed the course for guitar repair at the Vermont School of Lutherie. We do work for a number of professional musicians locally as well as lots of up and coming players and those brand new to the amazing world of guitar.
My specialty is "set up" work, making your instrument play it's best. Most guitars playability can be improved and almost all NEW guitars purchased on line or in volume retail shops NEED to be set up properly. Your guitar, like the doors and floors in you house, can literally change with the weather. And just because you just spent $1000 + on a new instrument doesn't mean it's been properly adjusted to play it's best. We also cater to professional musicians whose instruments need to be repaired and back in action quickly. I also offer adult beginner lessons in guitar as well as a network of great teachers for more advanced players looking to up their game.
In addition we stock strings, a wide variety of parts and accessories and offer custom order options. If we don't have it...we usually can get it for you quickly and at a competitive price. We won't be the biggest, but we will be the friendliest most accommodating shop you're likely to find. Our focus is quality and service first at reasonable prices. Give us a try. You won't be disappointed.
Call 908 894 5332, e-mail
roger@clintonguitars.com
or, better yet, stop in person Clinton Guitars at 6 East Main St., Clinton N.J. 08809. at the entry to Dickens Lane. Public parking is available on East Main St. and the public lot behind the Clinton fire house.
HOURS : Tue, Wed, Thu, 10:30 - 7:00 Closed...Sun, Mon. All Major Holidays.
Fri, 10:30 ​- 6:00 Serious inclement weather (or amazing motorcycle riding weather) ....call first
Sat, 10:30 - 4:00​ Vacations / closings... check the News and Events page above
---